Founder Yasmina Benazzou in her studio in NYCottages & Gardens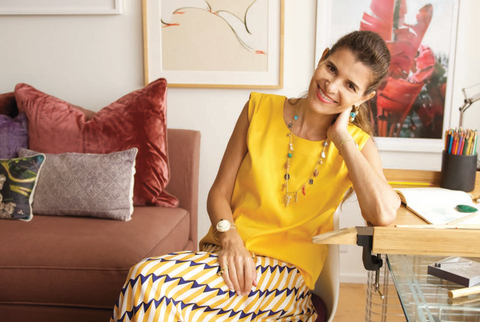 Founder Yasmina Benazzou met with editor Kelly Velocci in her NYC studio to talk about her passion for fine jewelry, the making of it and how she started Haute Victoire. 
Photos by Doug Young.
V Is for Victoire 
Jewelry designer Yasmina Benazzou embraces the elegance of earlier eras
"Almost three years ago, when she was 45, Yasmina Benazzou left her post as global creative director of Tai Ping carpets to start her own jewelry company. Like many executives whose careers pull them in unexpected directions, Benazzou missed the practice of making things by hand, even though she had been design­ing carpets for more than two decades. In 2014, she decided to sign up for an evening jewelry-making class and quickly realized that she had found an exciting new vocation. "I would come home from the sessions unable to sleep," recalls Benazzou, who enrolled in a gemol­ogy course at the Fashion Institute of Technology shortly thereafter. Upon launching her business, the search for the perfect name ensued, as the chic Parisian wanted the moniker to speak to the accomplishment she felt in having "found my creativity again," she says. Benazzou settled on Haute Victoire, meaning "high victory" in French. "It perfectly represented how I felt about my new endeavor—victorious, truly a personal victory"."
"Although Benazzou, who spent her adolescence in Morocco, Indonesia, and France, had taken a circuitous path to jewelry design, she didn't waste any time once she got going. Last year, she debuted her first five collections, all in 18k gold, ranging from necklaces with a single black Tahitian pearl punctuating a rough cast-gold base, the shape of which is inspired by precious agar wood, to twisted gold wire cuffs that delicately grip Persian turquoise or South Sea baroque pearls, to pendants and rings that incorporate vintage coins or stones removed from hairpins and brooches found in far-flung flea markets. The wide-ranging assortment is marked by an understated, timeless beauty and elegance. "Chic women from the 1950s and 1960s, as well as all the stylish women I've known in my life, are the inspiration behind my work," she says. Benazzou collaborates with other local jewelers to assist in making her wares, but some of her creations, such as a choker with a plump baroque pearl, begin at her Upper West Side apartment. She starts by securing pieces of gold wire in a vise bench and twisting them together with a hand drill, after which she wraps the metal around a necklace mandrel and hammers it with a mallet to achieve the proper form. Next, she secures portions of the necklace with a separate wire that will be soldered together off-site, in addition to two small posts that hold the pearl. After the choker is soldered, she drills two shallow holes into the pearl, dabs glue onto the ends of each post, and slides on the pearl until it is secured. "I love the hand-crafted aspect of this trade, and how my travels and upbringing impact how I put things together," says Benazzou, who donates a portion of her sales proceeds to the Lower Eastside Girls Club. "Each piece is its own story"."
" Chic women from the 1950s and the 1960s as well as the stylish women I've known in my life, are the inspiration behind my work".