Interview by Patricia Assui Reed from MATRIARK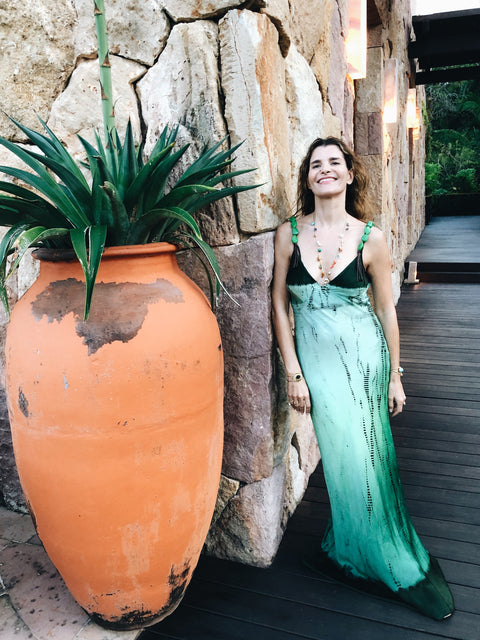 Yasmina Benazzou met with Patricia Assui Reed, founder of Matriark, a platform featuring fashion, design and lifestyle items selected exclusively from women-owned companies. They discussed creativity, entrepreneurship, and of course, women.
You had a successful career and was doing well. What made you decide to change your path and go into jewelry?

At 45, an urge for a career change and to do something more meaningful for myself pushed me to return to creating things with my hands. I enrolled in jewelry making classes and it became quickly obvious that I had found my new creative expression and I wanted to make a business and a life of it.
Where can we find your pieces?

Right now I'm keeping my reach small, selling my jewelry online through Haute Victoire's e-commerce, trunk shows in NYC and also in a couple of retail stores in the Hamptons and in Paris.
What is your criteria in deciding where to sell?

Finding the right stores where to sell is always critical for the development of the brand. Brand positioning would be my first criteria, then the aesthetic and my affinity with the owner.
Do you have a partner or do you work alone?

A year ago while looking for a PR firm I met Celine Kaplan. We had an instant connection, which brought us to think about a partnership. She is a jewelry lover and was interested to invest time, creativity and be involved beyond just PR, which made her the perfect partner for Haute Victoire.
How many people are in your team?

I work on a regular basis with my partner, my social media manager and finance manager. Everyone is based in NY.
You live in NY: in jewelry making and creativity in general, what do you think is the difference between NY, Paris, Morocco and other parts of the world that you have lived or spent a lot of time in?

I love New York City for its entrepreneurial friendly environment, and that motivated me to found Haute Victoire. Paris inspires me with its rich decorative arts history, galleries, museums and stores. Morocco is where I feed myself with colors and enjoy beautiful gardens and nature that speak to my imagination.
 What's in store for you and Haute Victoire? Can you share your plans for the future?

I'm working with a new person on an Haute Victoire sales strategy with more visible trunk shows and retail stores around the US, in parallel to the ongoing direct-to-consumer sales.
If I bumped into you on any given day, what brand or style of clothing would I most likely see you wearing?

I would be wearing jewelry, a lot of jewelry! A mix of Haute Victoire and my own pieces including a watch – I love watches. My style of clothing is colorfully dressed in the evenings, casual chic in the day and always feminine.
What other creative women do you admire?

La Callas, Jeanne Toussaint, Helen Frankenthaler.  
How do you think women feel when they wear your pieces?

I was told that my jewelry doesn't try to change women. It belongs already to the owner and fits her personality.
How do you choose the material that goes into your pieces?

It's a very instinctive process as I work with what I find, what is available, there are no plans or trends I follow. I met a Japanese pearl dealer that led me to design the Blanc Nocturne collection, and during my travels I find the material or the vintage pieces that I incorporate into a new jewelry design. When it comes to gold, 18k yellow is my go-to alloy. Sometimes I design based on the stones, and other times I focus on a shape and look for the stones to make it come to life.
What is the most difficult part of making jewelry?

Crafting jewelry requires such an expertise that it takes a lifetime to master. I feel like I am constantly learning.
What is the part of designing and making jewelry that gives you the most pleasure?

The concept, design and the engineering of a piece is what excites me the most and can keep me awake late into the evening.
What are the most important things you have to have to be a jewelry designer and business owner?

Beyond being creative you need to be extremely detail oriented and structured, as well as have a unique vision and a strategic plan for your brand. Knowing the right people, having a good network and choosing who to work with are also key.
How do you describe your professional work style?

As a small entrepreneur I have to wear many hats all the time. So I feel flexibility would be my work style and knowing how to use both parts of my brain: the creative and the operational parts.
Can you nominate a few other women that you would like Matriark to feature?

I like the work Martina Mondadori does with her magazine Cabana; also JJ Martin who is behind La Double J., painter Helen Downie and her Unskilledworker, and Racil Chalhoub and her brand Racil.
Your photos on IG are gorgeous. Do you style and plan them yourself?

During my previous career I used to work with mood bards all the time, direct photo shoots and curate marketing brochures. As I also love photography, I attended several workshops to understand it better. All this experience with the expertise of my social media manager come together as I style and plan Haute Victoire's IG.
What has been has been difficult and what has been amazing about being an entrepreneur?

Learning something new everyday and meeting interesting people have been the most amazing aspects of starting my own business. At the same time starting my first business as an independent entrepreneur leaves me with many unknowns and difficulties.
Was it hard for you to start selling your pieces? Do you think it would be different if you were a man?

I have been lucky to have a few women who love my jewelry and therefore I never felt that I was not selling a piece but that I was sharing my creativity and sense of style with them. Being a woman and having my style is actually helping me sell my jewelry.
What is you favorite place on earth? What is your bucket list?

My favorite place on earth is a place I have never been to. Though I have already traveled a lot my bucket list continues to grow: India, Japan, Tanzania, Brazil, Seychelles…
What do you love to do when you are not making jewelry?

I love to travel, to decorate my apartment, to make clothes, to see and buy art and watch indie movies.
Favorite restaurant in NYC? Or in Paris?
Raoul's.
Favorite shop?
De Vera.
Favorite drink?
Champagne!
Any book recommendation?
"La Panthère" by Stephanie des Horts, which tells the fabulous story of Jeanne Toussaint the director of Cartier Joaillerie. But I think you need to read French as it not yet translated in English.
You just got married, what your idea of a perfect date?
Someone you want to see again the next day.
Favorite scent?
"A la Nuit" from Serge Lutens.
 What were you like as a child?
I was a happy child, I liked to play tricks on people. I was already creative and was doing a lot with my hands.
What is one strange habit you have?
The French part of me likes to have cigarettes around but being in NY I do not smoke them.
Biggest mistake in life?
I have trusted some wrong people but it pushed me in directions that were positive at the end.
 Who has been the biggest influence in life and why?
My parents have been the biggest influence in my life with their differences in cultures, my father being Moroccan and my mother French. And their shared values of tolerance, hard work and integrity.
Yasmina, I know we just met but you seem to be comfortable in your own skin. What quality do you have and value? Something that has helped you along the way, maybe a trait that helped you during your career transition.
I think I am a flexible person. I like when things happen naturally. Working with people is the hardest part because everyone is different. So I think you have to really listen, and to be flexible. Rigidity and pride stop you from growing. For everything we do, there is always an exit. I think that helped me in my life.
You mentioned that it is hard to work with people. I think in the end it does come down to chemistry, no?
Yes, I agree. Sometimes you immediately connect with someone, and you realize you share their values, or that you have the same sense of humor etc. And sometimes things just don't work. It's not easy to navigate all the different personalities.
Well, I enjoyed getting to know you, and I think we share a lot of the same values. Thank you so much for spending time with me, it was such a pleasure to finally meet you!
Thank you Patricia, I really enjoyed meeting you too. Let's meet again at my studio soon!
Read HERE the interview on Matriark's website.