Haute Victoire in DOMINO magazine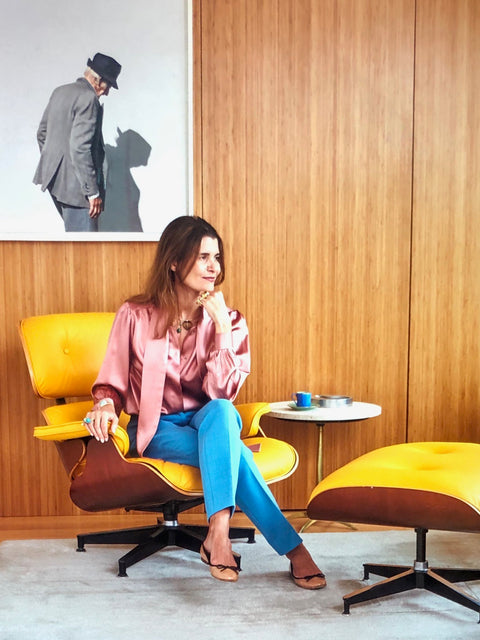 "Jewelry designer Yasmina Benazzou knits together old and new in her artfully arranged studio"
writes Rebecca Deczynski in DOMINO magazine spring issue.
Photography: Cody Guilfoyle
Spend a moment in Yasmina Benazzou's Upper West Side atelier and her penchant for fearlessly mixing and matching hues becomes abundantly clear—she knows color. Jewel tones—rich ruby reds and pops of pink—mingle with earthy browns and burnt orange, and are rounded out by sumptuously muddled pastel pinks and blues. Her decor combines elements and inspiration from all the places the globe-trotting Benazzou has put down roots—a childhood in Morocco, Jakarta during her teenage years, university in Paris, and her current hometown, New York City.
This considered way of layering design, art, and her curated finds mirrors the way Benazzou approaches her line of jewelry, Haute Victoire. She arranges antique trinkets, like animal figurines and intricate beads, with organic materials, such as shells and pearls, to create whimsical charm necklaces, among other pieces. Scattered throughout her studio are globally sourced accents, including an assortment of Moroccan thuya wood objects and seashells collected from beaches in Bali and Nicaragua, alongside higher-end finds, such as a vintage blue-and-white ceramic vessel by Jean Lurçat and a Brutalist sculpture by her father-in-law. "It's like one big mood board," Benazzou says of her work space, which inspires her on a daily basis.
But if she's being honest, it is her collection of art—a trove of photographs, drawings, and paintings—that dictated the decor. "The rose-colored sofa complements Eamonn Doyle's images, and the bold Art Deco carpet connects to the geometry of a Fay Lansner drawing that I recently acquired," she explains. Color pairings come naturally to Benazzou: A lemon yellow Eames chair and an ornately carved purple dresser are impactful opposites, as are the Sardinian coral and Persian turquoise she uses in her line. Haute Victoire presents a range of made-to-order and one-of-a-kind fine jewelry, and each piece is certain to contain some treasure—vintage or new—that Benazzou has unearthed during her travels (think: Roman coins sharing space with malachite beads and beautifully patinaed Victorian charms). "My jewelry has something of a lineage," she muses. "A connection to the past with its own identity and stories."