Haute Victoire x Lingua Franca Summer Collaboration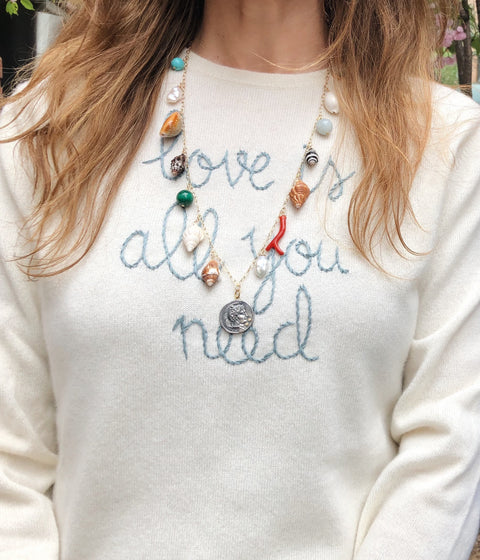 Our Beginnings
When spending my summers in the Hamptons, Crows Nest in Montauk is my favorite place for sunset drinks. A few summers ago I came across, in their store, hand-embroidered vintage cashmere sweaters emblazoned with inspirational mottos. Their individuality and mottos captivated me since I was at that time embarking on a personal and creative endeavor as the founder of Haute Victoire. I was soon to discover that Lingua Franca's very own creative force and founder, Rachelle Hruska, has since attracted and inspired successful independent women such Michelle Obama, Oprah and Candice Bergen.
Rachelle was someone I needed to meet.
Our Collaboration
Through my partner, Celine Kaplan, we connected with Rachelle who came up with the idea of collaborating on a charm necklace. Our concept was to find a way to piece together Rachelle's desire to tell stories through design and Haute Victoire's use of unique and vintage charms, hand-picked shells, and colorful semi-precious beads as an expression of travel. 
      Our Summer Charm Necklace
The summer charm necklace's center piece is a hand-made medal, replicas from ancient coins, featuring Athena the goddess of wisdom and craftsmanship. An instant heirloom, Les Charmantes Summer Charm Necklaces embody the effortless style of summer through hand-crafted uniqueness and the luxury that both brands are known for. 
The summer charm necklaces are sold through Lingua Franca's store on Bleecker St., NYC and on their website. Click here to shop yours.