L'Invitée Carolyn Bankston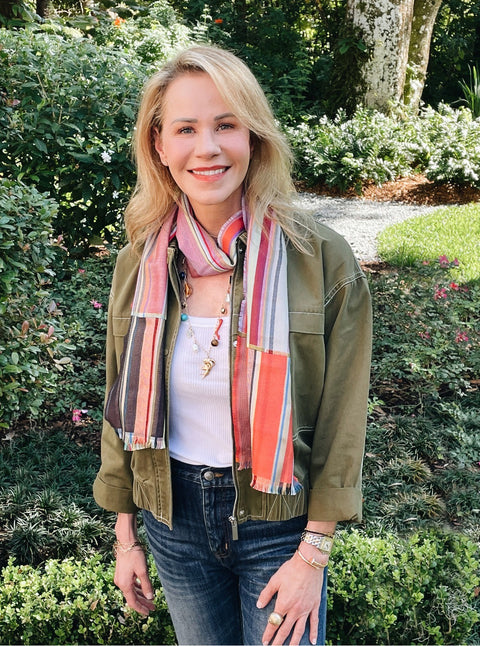 To start the year we are putting a spotlight on the women who inspire us. Our guest this month is

Carolyn Bankston

, psychoanalytic psychotherapist and global lecturer, who is sharing her love for one-of-a-kind jewelry and far travels. Carolyn is also sharing her view on the pandemic and self-care.
Haute Victoire: What is your first memory of jewelry?
Playing with and admiring my grandmother's great Deco jewelry. I could sit in her room for hours, as a child, admiring and playing with these pieces.
Nowadays what inspires your jewelry purchases?
Well, I have to be inspired. Jewelry has to be special and unique. I do not respond if a piece does not strike me at my core. I also love to buy jewelry when I travel so I can bring home a memory from my trip.
If you were to pick one piece of Haute Victoire jewelry, how would you style it?
I adore my Zeus necklace carved from ancient Roman glass, it is black with a white baroque pearl drop. It can be styled with so many looks, but I do love it against a white button-up or T-shirt, so it can really stand out.
I know you like to travel. What's your next trip?
I was supposed to be in Antarctica in the coming week, but it was canceled due to Covid. So, I will be in Costa Rica instead in a sustainable resort that gives back to the community. A completely different but lovely experience.
What are the essentials you carry in your travel bag?
A great hat, sunglasses, my skincare products and reading material. Haute Victoire pieces are also great to travel with because of their uniqueness, giving great versatility to a limited travel wardrobe. 
As a psychoanalytic psychotherapist, what is the most common mental health advice you would give to women in this third year of the pandemic?  
Self-care, self-care, self-care. If this pandemic has taught us anything, it is to slow down. However, this can be difficult when you are working, tending to a family and functioning in a virus ridden world. So taking time to self-focus has never been more important.
Merci Carolyn !