L'Invitée Ghita Tazi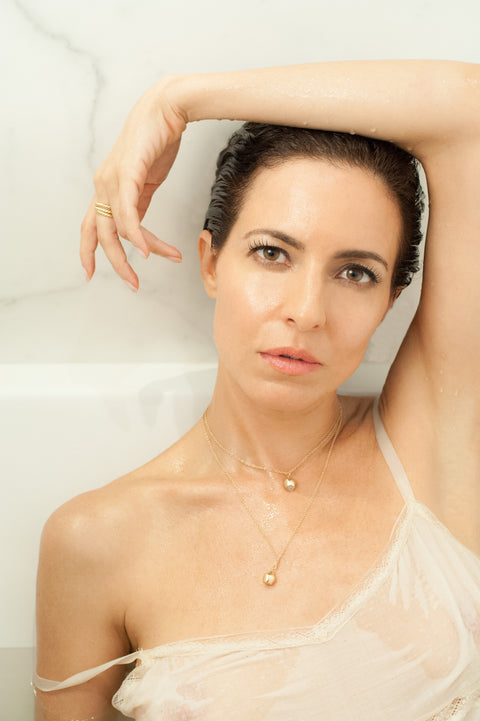 We are putting the spotlight on the women who inspire us. Our guest this month is actress Ghita Tazi, she tells us more about the jewelry she likes and where she likes to escape.
Haute Victoire: What is your first memory of jewelry?
Ghita: When I was a child in Morocco, I would visit my grandmother who would ornate me with flamboyant jewelry. It was a festive moment, and I would dance and act.
Nowadays what inspires your jewelry purchases?
I love the history behind jewelry and my preference goes to Art Deco pieces, when women truly celebrated jewelry. I like to know that the piece comes from some place special and what sort of women wore it.
 If you were to pick one piece of Haute Victoire jewelry, how would you style it?
Usually I like to wear one piece of jewelry at a time. A beautiful necklace or ring speaks for itself. When it comes to Haute Victoire my heart goes to Oud D'Or, a collection I have inspired, and to one-of-a-kind pieces from the Feu des Étoiles collection.
What is you recent fashion discovery?
I love Wendy Nichols' hats and especially her bags. And I enjoy going to her store in Nolita and have a fitting with her. It's an amazing personal experience!
When it's time to relax, where do you like to get away?
I have a home in North Morocco where I go to reconnect with what is essential. The countryside is absolutely beautiful and I spend most of my time outdoors enjoying the light, the trees and the flowers and petting the donkeys from the nearby village.
 What are the essentials you carry in your travel bag?
I always carry a pair of wood framed sunglasses from Morgenthal Frederics, a gloss from Kevyn Aucoin and a scarf from 45Rpm.