L'Invitée Fabienne Dufourg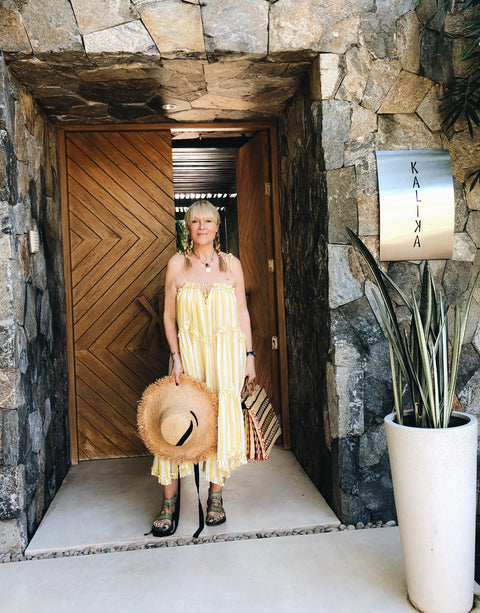 We are putting the spotlight on the women who inspire us. Our guest this month is Fabienne Dufourg. Fabienne is the owner of Casa Kalika in Mexico and founder of
PRIVÉ

, a line of hair products she created with her husband, hair stylist Laurent Dufourg. She tells us more about herself and her love for jewelry.
Haute Victoire: What is your first memory of jewelry?
Fabienne Dufourg: My first memory of jewelry goes back to my childhood when I was 10 years old. At my first communion I had asked my godmother – as it is usually done - to buy me a large gold medal of the Virgin Mary; but, I remember this one was very modern and stylized.
Nowadays what inspires your jewelry purchases?
I love the mix of the old and the new and my heart is drawn particularly to rings from the 40's. I never buy jewelry to match my outfit but I am inspired when I travel to Greece, Italy or Portugal and find a special piece from a native designer.
The gemstones I am the most attracted to are peridots, pink tourmalines and pink diamonds.
If you were to pick one piece of Haute Victoire jewelry, how would you style it?
I love to wear my one of a kind Haute Victoire horn cuff with an Antique
gold ornament and mix it with my other gold jewelry bracelets. Some are custom made or from established brands but in the end it's all about the mix.
What is you recent fashion discovery?
I fell in love with the dresses of Silvia Tcherassi that I had discovered on Instagram. I have immediately bought one for our 40thanniversary with my husband. We will be celebrating in Portofino in June.
When it's time to relax, where do you like to get away?
We have been going to Punta Mita in Mexico for the last 10 years where we have built our dream house: Casa Kalika. It's the most peaceful and zen place we
have ever experienced! We are surrounded by the Pacific Ocean and the Sierra Madre Mountain and we like the "douceur de vivre", which means, the sweet side of life there. I should not
forget that the house not only suits us but our two dogs are just in haven there too.
What are the essentials you carry in your travel bag?
I always have a basket bag with me. I lately purchased the Loewe that I fill with a pair of sunglasses from Brazilian brand Lapima, my Diorella perfume, a lip balm from 3 Lab and a Finishing Texture Spray from our own line of hair care products,
PRIVÉ.